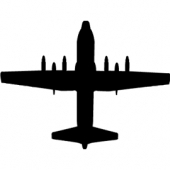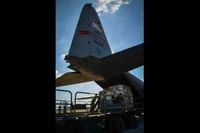 DOBBINS AIR RESERVE BASE – Hurricane relief efforts continued on the Dobbins flightline as forklifts and K-loaders loaded cases of water and ready-to-eat meals onto a C-130 Hercules Oct. 4.

Aerial porters from squadrons at Dover, March, McGuire-Dix-Lakehurst and Westover worked together to load a Mansfield Air National Guard C-130 with a total of 23,390 pounds of food and water which will be transported to Puerto Rico and distributed to those in need.

Working together with different units on this unique mission provided an opportunity for Airmen to gain new skills in the aerial port.

"It's different because most of our annual training and drill weekends are simulated - the what if situations - always war time and not so much humanitarian missions," said Staff Sgt. Kens Germain, an aerial porter from Joint Base McGuire-Dix-Lakehurst, New Jersey. "I've learned how to be much more flexible and how to better adapt, overcome and improvise when need be."

Puerto Rico underwent devastating destruction after Hurricane Maria raged through, destroying much of the island's infrastructure.

Dobbins is currently serving as an installation support base for Hurricanes Irma and Maria relief operations in partnership with the Federal Emergency Management Agency, providing an air and logistics hub for relief efforts.

Supporting these efforts often results in longer work hours and constantly changing plans, but the Airmen involved are happy to give back to the communities affected by the hurricanes.

"(This mission) gives to me the moral drive to give 200% when doing my job because I know that we're helping people in need," Germain said.

---