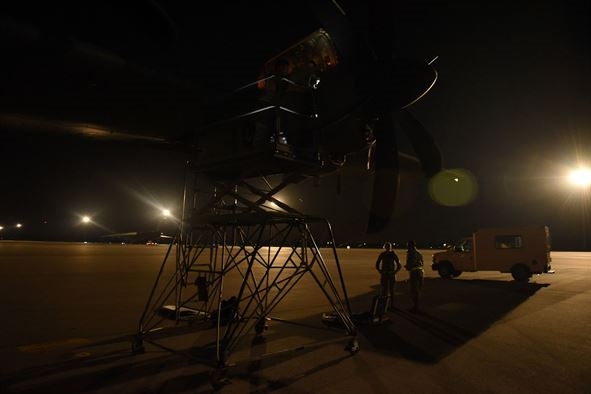 Members of the 19th Aircraft Maintenance Squadron, Little Rock Air Force Base, Arkansas, are providing maintenance to C-130J aircraft at MacDill Air Force Base, in the midst of relief efforts for those affected by Hurricane Maria.
In addition to the 19th AMXS, the 61st Airlift Squadron and 41st Airlift Squadron aircrews were deployed to MacDill AFB to support aeromedical evacuations from of Puerto Rico in the wake of the hurricane.
Since arriving at MacDill AFB, maintenance operations have been running 24/7.
"We have been conducting inspections on aircraft every 72 hours to ensure they're ready to go at a moment's notice," said Master Sgt. Michael Raver, 19 AMXS aircraft section chief. "Inspections entail looking over tires, fuel, systems and even preparing oxygen tanks for patients during aeromedical evacuation missions."
Thirty-two members of the 19th AMXS make up approximately 75 percent of the C-130 maintainer workforce at MacDill AFB. Little Rock Airmen work alongside members from Dyess Air Force Base, Texas, to provide maintenance to three Little Rock AFB C-130s, two C-130s from Dyess AFB and Keesler Air Force Base, Mississippi.
"Contributing to the aeromedical evacuation mission like this is very rewarding," said Staff Sgt. Matthew Frederick, 19th AMXS integrated avionics system specialist. "We're making sure people have the resources to bring those affected by Hurricane Maria to safety and get the medical attention they need."
---
by senior airman mercedes taylor, 19th airlift wing public affairs