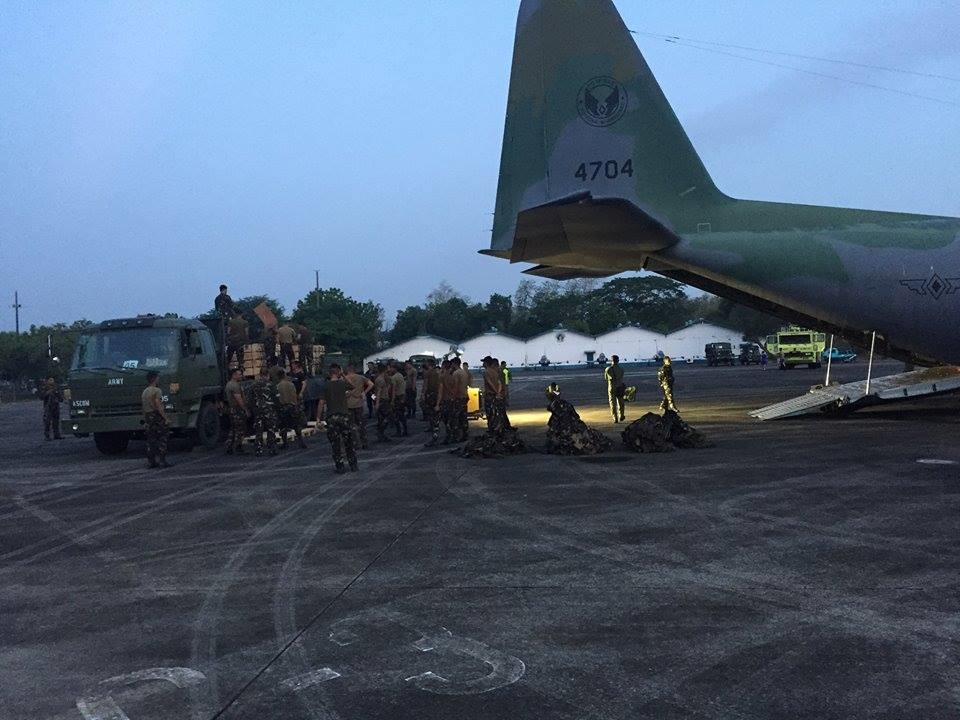 On April 28, two Lockheed C-130 Hercules transport aircraft of Philippine Air Force 220th Airlift Wing have transported essential military supplies to Armed Forces of the Philippines units fighting ISIS-inspired Maute Group in Butig, Lanao del Sur.
The two aircraft, with tail number 3633 and 4704, transported loads of ammunition from Clark Air Base to Laguindingan Airport.
"The combat effectiveness and sustainability of our ground forces will greatly rely on the amount of ammunition's available for them to fight. Without these airlift operations, the capacity for our ground forces to undertake military operations will be surely compromised and consequently the failure of the mission," 220th Airlift Wing said.
220th Airlift Wing said these re-supply mission increased the confidence of our troops, assured that they will be reinforced, supplied, and evacuated when needed. In effect, confident soldiers are more effective militarily.
Army Support Command Convoy Commander and Escort Officer of Logistics Support Group Captain Freginald Martinez expressed his gratitude to the pilots and crew who provided them the most effective and more rapid means of air transportation.
They were elated to know that there are now five C-130s in the Air Force, 220AW said.
"It is no doubt that the airlift that we provide remains an important enabler for aggressive combat operations such as this. So to all our brothers in the Armed Forces, as a promise, your airlifters will always be ready to respond 24/7," 220AW said.
Source: http://www.update.ph/2017/04/2-c-130-transport-aircraft-re-supply-ammo-to-troops-fighting-terrorists/17079
---