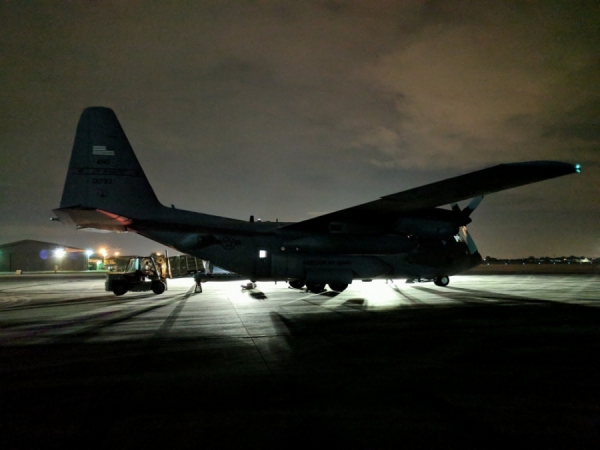 An aircrew from the 180th Airlift Squadron returned home Sept. 1, 2017 from providing airlift support in Texas in response to relief efforts from Hurricane Harvey.

Part of their mission included transporting six pallets of Federal Emergency Management Agency (FEMA) supplies including blankets and Meals, Ready to Eat (MREs). They transported some 36,000 lbs of cargo, according to Maj. Nick Kahler, who was the navigator for this particular crew.

They also transported 66 Soldiers in the Army National Guard from Laredo to College Station, Texas. The Soldiers were further deployed to affected areas.

Kahler, along with a second aircrew, arrived in Texas on Tuesday. He said they all volunteered for the mission.

"It's very busy down there," said Kahler. "But it's awesome to be part of this. Everyone we met was appreciative."

As both aircrews returned home to Rosecrans, two other aircrews were activated the same day and headed to Naval Air Station Fort Worth Joint Reserve Base, Texas. Those crews will remain in Texas through the Labor Day weekend providing airlift support across the state.

The Missouri Air National Guard's 139th Airlift Wing is comprised of approximately 1,200 citizen-Airmen from local communities throughout the region. The unit operates the C-130H Hercules cargo aircraft and has a dual mission to the state of Missouri and the federal government. Rosecrans Air National Guard Base is located at Rosecrans Memorial Airport, St. Joseph, Mo.
---