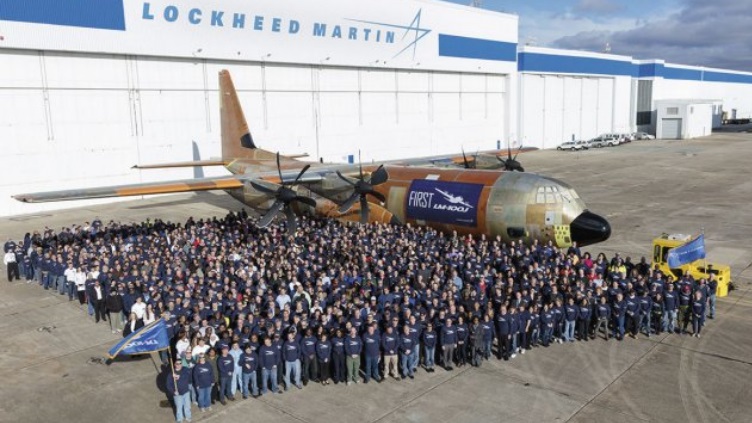 Lockheed Martin rolled out the first LM-100J Hercules airlifter from its Marietta production facility in Georgia on 9 February.
This milestone for the civil variant of the military C-130J came approximately two years after the concept was launched by the company as it sought to broaden its market in the face of shrinking of global defense budgets in general, and of Pentagon budgets in particular.
Lockheed Martin has filed for a Federal Aviation Administration (FAA) civil type certificate update and this first LM-100J will participate in flight test activity to support this process.
As with the earlier L-100 variant of the Hercules that was built between 1964 and 1992 (during which time 115 were delivered), the LM-100J is earmarked for a range of civil applications such as oversized cargo transport; oil dispersion/aerial spray; oil and gas exploration; mining logistics operations; aerial firefighting; aerial delivery; medevac/air ambulance; humanitarian relief operations; personnel transport; austere field operations; and search and rescue.
Although billed as a commercial platform, the LM-100J will also be targeted at governmental and military users who perhaps do not require some of the more advanced, and consequently more expensive, features of the C-130J. For example, secure communications and electronic warfare equipment, racks, and wiring are all eliminated in the civil aircraft.
As well as reducing the procurement cost (Lockheed Martin has previously given a unit cost of about USD60 million and USD70 million for an LM-130J, compared to approximately USD100 million for a C-130J), this reduces weight and fuel costs, as well as maintenance and sustainment costs. As such, the company sees a particular application with the militaries of some of the less developed parts of the world, such as Latin America, Africa, and parts of Asia.
Some military-specific software functions, such as a Computer-Aided Release Point (CARP) for airdrops, are retained however, and the LM-100J features the Enhanced Service Life (ESL) center wing-box, enhanced icing protection, and the numerous reliability and maintainability improvements that are a part of the basic C-130J design.
Source: http://www.janes.com/article/67635/lockheed-martin-rolls-out-first-civil-lm-100j-airlifter
---