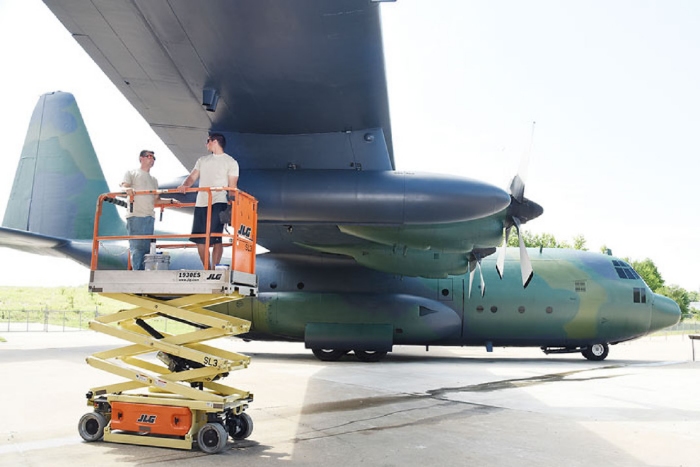 For the past week, airmen of the 139th Airlift Wing's 139th Maintenance Squadron in St. Joseph have worked through the blazing heat to bring the C-130 aircraft on display at the Missouri Museum of Military History at the Ike Skelton Training Site back to its former glory.
Nine airmen spent a day and a half washing the aircraft and another five painted.
"It's now colored in what we call the European Color Scheme," said Sgt. Brent Proffitt, senior member of the maintenance crew that came to Jefferson City. "This would have been what it looked like had it been on duty in the European theater. Currently, all C-130s are painted gray."
Proffitt said the biggest challenge this week was not the heat but the wind, since strong gusts can cause over spraying.
The plane was brought to Jefferson City from Chanute, Illinois, last May, marking the second time the plane has been used for a historic display.
This Hercules first went on display in 1984 at the Chanute Air Force Base, which closed in 1993.
"I actually saw this plane at Chanute when I was doing tech training in the 1990s," Proffitt said.
Because this aircraft was used by the Missouri Air Guard 139th Airlift Wing, Missouri command members were eager to bring it here.
This particular C-130 was one of the first made in April 1957 at Lock-heed's Marietta, Georgia, plant. It saw service all over the world, lastly with the St. Joseph-based unit.
The Hercules also was stationed at Tachikawa Air Base, Japan, in 1958 and moved to the Naha Air Base, Okinawa, in 1966.
It then served in Minnesota from 1971 until it was damaged in a 1973 belly-landing. A transfer to West Virginia preceded its arrival in Missouri.
"We will be back to do maintenance work from time to time," Proffitt said. "We took the rudder off, did repair work on it and put it back on. We will be back to put on the proper military markings."
Museum officials said this C-130 is one of the few known on display and the only one known to be on display in Missouri.
Visitors continue to come to the museum at a steady pace, with more than 1,000 last month, officials said.
Source: http://www.newstribune.com/news/local/story/2017/jul/13/st-joseph-crew-restores-c-130-hercules-display-here/681973/
by Jeff Haldiman
---