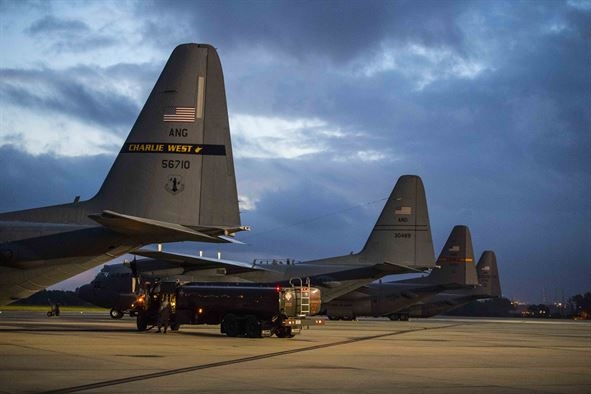 The West Virginia National Guard has once again answered the Nation's call for help this week by providing C-130 Hercules and C-17 Globemaster III aircraft and crews, as well as additional ground support, for the response efforts in Puerto Rico following the devastation from Hurricane Maria.
Approximately 32 Airmen deployed to locations in both Georgia and Puerto Rico to provide much needed assistance to the island.
Members of the 167th Airlift Wing in Martinsburg, W.Va., deployed in late September with to provide critical airlift and airfield operations in both Georgia and Puerto Rico. To date, 167th AW crews have flown 14 sorties carrying 34 passengers and more than 180 short tons of cargo to the island delivering supplies to those in need. One WVANG member has integrated with other members of the response effort to assist with airfield management while other Airmen have been supporting air terminal operations in Savannah at the 165th Airlift Wing.
The 167th AW air cargo specialists have helped manage the flow of resources including water, MREs, equipment and other necessary resources into and out of the large hub.
"It was really an entire wing effort to support the ongoing recovery efforts," said Col. Shaun Perkowski, commander of the 167th Airlift Wing. "Many of our personnel worked consecutive weekends to support operations in Texas, Florida and the Caribbean. The value of airlift cannot be underestimated, but there is so much more which goes into planning and executing those missions including deploying our personnel, whether to help with cargo in Harrisburg, Pennsylvania or Savannah, Georgia, which has proven to be vital to this effort. It cannot be understated that all of these efforts could not happen without the 167th's spirit of service and volunteerism."
The 130th Airlift Wing sent a crew of nine individuals Oct. 4, 2017, to pick up supplies in New York before offloading in Georgia and flying into Puerto Rico. Aircrew from the 130th AW flew four missions to pick up and deliver much needed supplies, equipment and military personnel to the area.
Col. Randy Huffman, vice wing commander of the 130th Airlift Wing said, "The 130th Airlift Wing is proud to support the ongoing relief efforts for American citizens in desperate need in Puerto Rico. Our members train daily for this and the Air National Guard is unique in that we can provide support at a moment's notice for humanitarian assistance. The West Virginia ANG will continue to be prepared to support this ongoing mission however and whenever we are asked."
These two units offer distinct airlift capabilities within the WVNG, providing airlift operations in two vastly different airframes at any time.
"Because of these strategic assets in the West Virginia National Guard, Joint Base West Virginia is a crucial hub for domestic response operations for our Nation," said Maj. Gen. James A. Hoyer, The Adjutant General of the WVNG. "We answer the call when needed and there's no one better to provide assistance to those in a time of need than highly trained West Virginians."
Since September, the WVNG has supported hurricane relief efforts for Harvey, Irma and Maria in Texas, Florida, the U.S. Virgin Islands and Puerto Rico through U.S. Army engineer and U.S. Air Force airlift, airfield operations, and air cargo support. Overall, the 167th AW flew 59 sorties carrying more than 539 short tons of cargo since Hurricane Harvey struck the coast of Texas. The 130th AW flew four sorties carrying 6.59 short tons of cargo and 16 passengers for Hurricane Maria relief. 
---
by capt. holli nelson, west viginia national guard headquarters