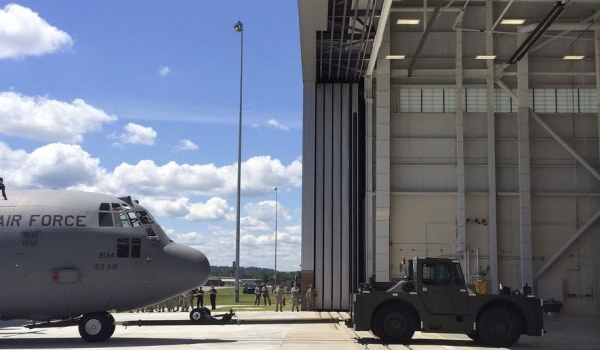 The Connecticut National Guard moved closer Wednesday toward securing its permanent flying mission with C-130 cargo planes for years into the future.
State and Guard officials held a ceremony to mark the opening of a new, federally funded, $14.3 million maintenance facility for the aircraft stationed at the Bradley Air National Guard Base in East Granby. The unveiling of the Fuel Cell and Corrosion Control Facility came three weeks after the Guard welcomed home 130 airmen and four of the eight C-130s back from the Guard's first large-scale, overseas deployment with the aircraft in southwest Asia.
"This project proves the federal government is committed to recapitalizing their investment in the Connecticut Air National Guard," Major General Thaddeus Martin told the crowd on Wednesday, referring to the 30,000 square-foot-facility. He noted that two final projects associated with the C-130s are still in the pipeline: an air terminal planned for this fall and a more secure base entrance planned for fiscal year 2018.
Once those projects are completed, he said "all our bases are covered" in case the federal government embarks on another mission to close military bases to save money.
The Connecticut Air National Guard's flying mission was put in limbo in 2005 when the federal Base Realignment and Closure Commission recommended stripping the Guard's A-10 fighter planes. The Guard later flew C-21 transport aircraft as part of a "bridge mission," eventually hoping to get C-27 Spartan cargo planes.
But Martin realized in 2012 there was shrinking support in the Air Force for the C-27 planes and recommended the state shift gears and pursue an older, more established program - the C-130 cargo planes - for its permanent mission. Martin has been working to secure funding ever since to meet the needs of the planes, including upgrading the aircraft so they can fly another three decades. They're all more than 40 years old.
C-130s, also known as C-130H Hercules, operate throughout the Air Force and serve in a wide range of operational missions. The aircraft can carry airdrop loads up to 42,000 pounds.
Democratic Gov. Dannel P. Malloy said he's hopeful Connecticut has done what it can to help prevent the Air National Guard base, as well as the U.S. Submarine Base in Groton, from appearing on any potential BRAC closure lists in the future by helping to make improvements.
"The more valuable the facility, because the more modern it is, the more likely we are to keep the missions that we have," he said.
Martin said the C-130 maintenance facility is part of a nearly $120 million overhaul of the guard's various facilities. The 103rd Airlift Wing has just under 1,000 full- and part-time members, in addition to another 335 full-time workers.
"The bottom line is this: with each project start we move closer to fulfilling our responsibility to provide the Connecticut's National Guard with the best possible training equipment and facilities necessary to assure mission accomplishment," he said. "Accepting anything less does a huge disservice to our members their families and the citizens of our great state."
---
by susan haigh - associated press - wednesday, july 26, 2017