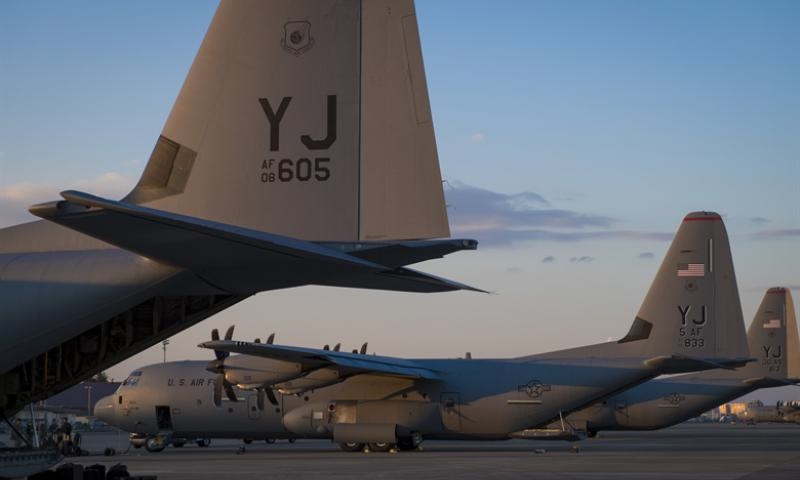 The 374th Airlift Wing was recently name PACAF's winner of the 2018 Air Force Association Verne Orr Award.
The Air Force Association (AFA) established the award for the 14th Secretary of the Air Force Verne Orr to highlight mission-oriented accomplishments and achievements by units that made the most effective use of its human resources.
Hoping to stand out amongst the other competitors, Yokota AB decided to take a unique approach to which unit they decided to nominate. Normally an air force installation will select a single unit who stands out amongst the rest. Yokota members looked at this and thought, 'why not nominate the whole 374th Airlift Wing? '
"I don't think it's normal, usually it's a smaller unit," said Major Duy Nguyen 374th Airlift Wing executive officer over wing award and decoration programs. "I figured if we had all the stuff that our wing does collectively, it makes for a much stronger package. You combine together everything, especially with the strategic importance of Yokota, I definitely think it makes us a powerhouse to compete."
Beyond the impressive numbers submitted in the actual nomination package, the 374 AW has continually shown why they deserve such a prestigious award.
In 2017, Yokota AB participated in 17 international exercises with 28 partner nations, hosted a presidential visit, developed a wing smart app that enabled personnel on base to have real time responses and answers and completed a total over hall of it's ageing C-130H fleet and created a new J model transition training plan for other bases to follow.
"We have a great team and everybody is dedicated and motivated to contribute and do their best," Nguyen said. "I think that each member of this base, service members, contractor, civilian employee or spouse truly helps to create innovation and drive a lot of success's in our wing."
According to Nguyen, it seems to boil down to the Airmen of Yokota Air Base who make winning awards like this possible.
"Everybody is making a contribution along the way," said Nguyen. "So I think they are all a piece of the Verne Orr Award. Hopefully we can get it at the Air Force level."
For now, Yokota will have to wait to see how they stack up against the other MAJCOMs. The AFA, will present the final award during the Air & Space Conference and Technology Exposition 2018 this September in Washington, DC.
---