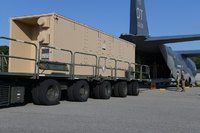 By Lt. Col. Paul Hendrickson , Materiel Leader, Agile Combat Support Directorate, CBRN Defense Systems / Published June 05, 2020
JOINT BASE CHARLESTON (JBC), S.C.  – One month since the successful flight demonstration of the Negatively Pressurized Conex (NPC) proof-of-concept, a team of experts from across the country continue to work tirelessly to finalize the design and ensure the safety and effectiveness of both the NPC and NPC Lite (NPCL) next phase builds. 
The first NPCL was delivered to Joint Base Charleston on June 1 for operational test and the NPC will arrive this weekend.  Following successful testing they are projected to immediately begin operations.
The NPC is a rapid prototype project developed in response to the United States Transportation Command's (USTRANSCOM) Joint Urgent Operational Need (JUON) requirement issued on March 28, 2020 for high capacity immediate transport of COVID-19 infected personnel. 
Under the direction of the Air Force Program Executive Office (PEO) for Agile Combat Support (ACS), a team led by the Air Force Chemical Biological Radiological and Nuclear (CBRN) Defense Systems Branch and the Joint PEO CBRN Defense drafted the requirements, awarded an other transactional authority (OTA) agreement to the contractor team comprised of UTS Systems, Highland Engineering Inc, and Delta Flight Products and delivered the proof-of-concept NPC in less than 21 days. 
Following a series of tests and the successful demonstration flight of the NPC on April 30, and with the recommendation of PEO ACS, the Commander of Air Mobility Command (AMC) made the decision to proceed with the procurement of the NPC for Inter-Theater Airlift on the C-17 and C-5 aircraft; and the NPCL variant for Intra-Theater Airlift on C-130, C-17 and C-5.
Beginning with a proof-of-concept prototype and ending with a fieldable system that is safe and meets the JUON's requirements presented a major challenge. 
Teams from Air Mobility Command and the Air Force Lifecycle Management Center's (AFLCMC) Engineering and Technical Management/Services Directorate, C-17 System Program Office (SPO), C-5 SPO, C-130 SPOs, and Human Systems Division worked directly with the NPC/NPCL program team and contractor to rapidly iterate on the systems' designs, to compress the normally months to years interwoven engineering, medical, safety, testing, financial, scheduling, and air worthiness processes into less than 30 days.
Working these separate streams at the same time was not for the faint of heart.
"Helping a non-standard defense contractor understand the stringent requirements for air worthiness required an all-hands on deck and an outside of the box teaming strategy," said Robert David, Chief Engineer for the C-17 SPO.  "Having our engineers and subject matter experts work directly within the finalized design of the NPC/NPCL allowed for concurrent development, production and certification."
"We worked with the contractors to develop safer seating systems for patients and tested them here at the 711th Human Performance Wing's vertical and horizontal crash test facilities," said Dr. Casey Pirnstill, a research Biomedical Engineer at Air Force Research Laboratory.   "We even had a local church donate personal protective equipment and hand sanitizer so the guys could work in proximity to build the test fixtures."
This rapid and outside of the box thinking for design was driven by AMC's continued demand for the NPC and NPCL to facilitate COVID-19 aeromedical evacuation operations around the globe.  While utilizing the lower capacity Transport Isolation System (TIS) and other methods, USTRANSCOM has already transported more than 46 patients and expects the demand to continue to ramp up.
"We had to rapidly understand the inherent limitations we would experience in this rapid development, and help buy down risks to make the system both airworthy as well as safe for operations," said Peter Christiansen the Chief Engineer for the C-130 in AFLCMC/WLN. "We sent four members of the C-130 team to Howell, Michigan to work directly with the NPCL build contractor Highland Engineering to ensure the delivered NPCL would meet all safety requirements.  Seeing the team come together and work this rapid development was a huge testament to teamwork and made it all possible."
"One of the biggest hurdles to this process was designing and validating the overall structural integrity of the system through the development of Finite Element Models (FEM) and conducting the associated analysis on these," added Sean Mortara, a structural analysis technical expert with AFLCMC/EN-EZ.  "Working directly with both NPC and NPCL contractors to develop and modify these designs and models during production was definitely outside of the box, but made it possible to deliver these systems in 30 days." 
"Our team had to pull together the entire package of risks and requirements for a military flight release, showing that the risks were addressed and this system was ready and safe to fly on military aircraft," added Rebekah Less a member of the Human System Divisions Sustainment Branch.  "On top of that, we had to develop a sustainment, training, and maintenance package, to ensure the system when it enters operations at the end of June will be ready for the operators to execute missions with confidence."
The NPC is scheduled for 10 days of ground tests followed by an Operational Utility Evaluation (OUE) C-17 flight.  The NPCL is scheduled for 21 days of ground tests on three different C-130 to include its OUE on a C-130J mid-June.   Follow on evaluations for the C-17 and C-5 aircraft will follow for the other configurations at a future date.
With the conclusion of these OUEs, the systems will enter service and be available to transport COVID-19 patients around the globe for USTRANSCOM.  Subsequent rapid delivery of additional NPC and NPCL units will begin at the end of June, and 30 of each system are expected to be produced. 
Testing will be conducted by a joint team comprised of members of the Air Force CBRN Branch, 28th Test and Evaluation Squadron, Air Force Operational Test and Evaluation Centers (AFOTEC) Det 2, 417th Flight Test Squadron, aircraft SPOs, AFRL, AMC/SG, AMC/A3V, Army Combat Capability Development Directorate, Army Public Health Center and additional team members.
"This was not how I expected to spend the month of May, but working hand in hand with the contractor team of UTS, HEI and DFP in place at their location in Howell, MI has been a sprint marathon," said Matt Kilmer from the C-130 Program Office. "But the overwhelming commitment from both the government and contractor teams has been amazing to watch.  Because these teams came together and worked diligently, we will be able to field this critical capability to the warfighter in an amazing short period of time."
"Providing an unrivaled mobility capability for the nation and our allies is the reason we come to work every day," commented Col. Scott Ekstrom, Senior Materiel Leader for the C-17 Program Office. "The demand for urgent solutions to current problems is constant.  Supporting an effort like the NPC/NPCL development showcased our teams working together to rapidly effect the safety and security of our Airmen. I couldn't be prouder of the team."