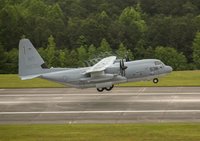 Lockheed Martin provided the final of 86 C-130 Super Hercules aircraft that were part of a Multi-Year 2 contract announced in December 2015 when it delivered a KC-130J tanker-transport platform to a US Marine Corps (USMC) reserve squadron on 28 May.
The KC-130J is assigned to Marine Aerial Refueler Transport Squadron (VMGR-452), the Marine Forces Reserve squadron at Stewart Air National Guard Base in New York. KC-130s are operated in support of the Marine Air-Ground Task Force (MAGTF) commander by providing tactical in-flight refuelling for fixed-wing, rotary-wing, and tiltrotor aircraft; aviation-delivered ground refuelling of aircraft or tactical vehicles; and air assault transport or air-landed or aerial delivered (parachute) personnel and equipment. The aircraft also provides pathfinder support, battlefield illumination, tactical aeromedical evacuation, and tactical recovery of aircraft and personnel support.
Lockheed Martin spokesperson Stephanie Stinn said on 2 June that this Multi-Year 2 contract also delivered C-130J-30s, MC-130Js, and HC-130Js to the US Air Force (USAF), nine KC-130Js to the USMC, and HC-130Js to the US Coast Guard (USCG).
Lockheed Martin, in total, delivered 86 C-130Js through the Multi-Year 2 contract. Stinn said the original contract was for 78 aircraft with an optional five to acquire. In addition to the original 78, 3-of-6 options were exercised, plus five more aircraft were added, for a total of 86 aircraft procured through Multi-Year 2.
View original article at janes.com