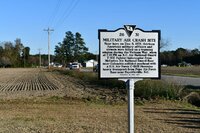 Horry County officials and family members of the thirteen airmen that passed away in the 1972 military air crash in the Bayboro area gathered Saturday to honor the victims on the 48th anniversary of the crash.
"Historic preservation is what I like to do," said Jamie Thompkins, with Horry County Historical Preservation Society, who helped plan the event. "I had no idea this was going to be an emotional rollercoaster for me, but it has been ... What I found was a story that was tucked away in our county's history and when I opened the door, so to speak, it came rushing out."
On December 5, 1972, thirteen men died when an F-102 interceptor based out of McEntire Air National Guard base near Columbia collided in mid-air with a C-130 transport plane out of what is now Pope Army Airfield in North Carolina. The aircraft crashed to the ground near the Bayboro area off Joyner Swamp Road.
advertisement
"The accident occurred on a night combat profile mission, referred to as a CORONET SIERRA mission, designed to test the various options and capabilities of the … aircraft," an Air Force incident report read, noting it was a training mission.
An historical roadside marker, as well as a headstone with all thirteen names was placed in the field next to the Joyner Swamp Fire Station just down the road from the crash site near Tyler Road. 
Horry County Councilman Al Allen, one of the driving forces behind the planning of the memorial more than a year in the making, said that the markers are on county property and assured the family that the memorials will always be taken care of properly. 
"I listened to the personal story of each airman, and each one of them has a special memory, and each conversation I ended up in tears. This only cemented my resolve to see this project to a positive outcome. I feel blessed to have had the opportunity to bring everyone together today for this ceremony," Thompkins said. "I am humbled to share in such precious memories."
Many local, state, and military officials attended, including members of the Horry County Council, the Honorable Thomas Keegan (on behalf of Congressman Tom Rice), and Col. Joseph Vanoni with the U.S. Air Force out of Pope Army Airfield in North Carolina. 
The Horry County Fire Rescue Honor Guard and the Horry County Police Honor Guard were in attendance as well as the Coastal Carolina Shields, Pipes and Drums. 
Vanoni told the crowd he was proud to be in attendance "to honor them as we should have 48 years ago."
advertisement
Family members of the servicemen came from as far away as California and Illinois for the memorial, saying the event was some closure their families needed. 
"It was wonderful," said Kathy Fischer, sister of then 23-year-old Doug Thierer, who was on board the C-130 that crashed. 
Ronald Tyler and his children Greg Tyler and Phyllis Richardson, who all lived just by the site of the crash, told their story of that night, when Ronald Tyler ran out of his house with his children. After the midair collision, the remainder of the C-130 seemed to be headed straight for their home. 
Tyler and Richardson both told the families that while they were scared that night, they understand their experience was nothing compared to the family members that lost loved ones. 
"They want you to know they shared in your grief," Thompkins told the family during the memorial. 
Richardson told the crowd she had been blessed to have been able to meet and befriend the Thierer family.
"Phyllis, she was my age at the time," Fischer said. "I never thought about that. It gave me a different empathy. I never thought about what was going on [down] on the ground because we were so totally devastated."
Read more about the Tyler's experience that night, as well as comments from some airmen family members here.
"I can't think but one thought and that is that freedom is not free. Some folks have paid a hefty toll," Thompkins said. "The absolute bravery of people I don't even know who are willing to put their lives on the line every day is pretty overwhelming. They should be respected by all, because this is not a debt we can repay. We can however come together as a community to tell our story to see that these men who perished here will never be forgotten, and that this spot will be marked forever for all those to see that something significant happened here." 
View original article here: Military plane crash victims memorialized after 48 years | News | myhorrynews.com