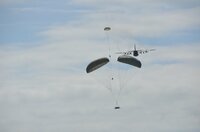 For more than a year now the 908th Airlift Wing has been faced with the task of figuring out how to protect its members and their families from COVID-19 while still being able to answer the nation's call when it comes. One of the first things the wing commander, Col. Craig Drescher, said in readjusting the wing's priorities was that, "we have to find a way to lean forward and still accomplish and preserve as much of the mission as possible."
In the last year, the wing has taken the commander's words to heart, as it knew it was facing the largest deployment in the history of the 908th AW this year.
To help showcase the wing's motto, "Readiness in Strength," the 908th held a wing-wide exercise in conjunction with one of the many monthly tactical airlift training weeks it has had in the past year.
While exercise Auburn Tide, aptly named for Alabama's only Reserve wing, didn't feature every member of the wing, it did focus on many of the jobs needed to accomplish the tactical airlift mission of the wing. Featuring maintainers from the 908th Maintenance and Aircraft Maintenance Squadrons to fix, prepare and generate aircraft for missions; air transportation specialists from the 25th Aerial Port Squadron to pack, rig, and provide various equipment used for air drops; medical community members from the 908th Aeromedical Evacuation Squadron and the 908th Aeromedical Staging Squadron to prepare and provide patient care to wounded members downrange, inflight, and at local medical treatment facilities; and lastly the aircrews that fly all of these important missions, either delivering supplies or troops to the front lines, or air evacuation mission of bringing members back to a safe treatment facility.
"The main goal of this exercise is to ramp up our operations and challenge our members," said Capt. Justin Bell, director of inspections for the 908th inspector general's office. "We create situations that are tailored towards combat operations that are close to what we'll encounter in a deployed environment. As an inspector I'm looking to ensure that all our members are ready to carry out the mission and can be deployment capable within 72 hours."
The ability to deploy anywhere, anytime at a moment's notice is critical to the 908th's tactical airlift mission. Auburn Tide will serve to bolster our Reserve Citizen Airmen's readiness and mission capability.
"While we've had our share of adversity this past year, the members of the 908th have consistently adapted and overcame every challenge," said Drescher. "I have full confidence that our members will continue to be resilient and mission ready as they deploy."
Source: 908th Proves Readiness for Wing's Largest Deployment during Exercise Auburn Tide > 919th Special Operations Wing > Article Display (af.mil)