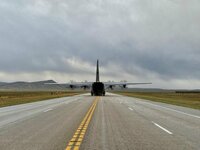 The United States military made history yesterday when it landed a C-130 aircraft on Highway 287 north of Rawlins during a joint training exercise. Moments after sunrise, the cargo plane burst through storm clouds to the east of the roadway at about 240 miles per hour. 500 feet off each wingtip was an A10. Known also as "flying guns," A10's are the Air Force's primary low-altitude close support aircraft. Until yesterday, the Air Force had never landed a C130 on an American highway, although two A10's landed on a Michigan highway earlier this month. Prior to that, such a feat had only been done in Estonia during the Cold War.
With a wingspan of more than 132 feet, the four-engine C130 is over 97 feet long and has a 42,000 pound payload. It's manned by a five-person crew including two pilots, a navigator, flight engineer and loadmaster. The US military has used the C130 since 1956 as a troop, medevac and cargo transport aircraft. It is designed for landings and takeoffs on short, unprepared airstrips in combat zones.
Despite gusty winds, a wet road surface, heavy cloud cover and a speed of 120 miles per hour, the pilots set the C130 down perfectly on the centerline of the highway -- making history.
View Original Article: https://bigfoot99.com/bigfoot99-news/air-force-pilots-test-landing-skills-on-highway-287-during-military-exercise/?fbclid=IwAR0Y2NcaFh-9Udl1PAFRRYGFkFA2mOeZ6xrmGdc0VFsO5zsyFtf0f69DV3M