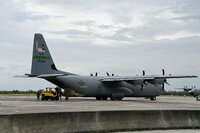 A C-130 from Little Rock Air Force Base, Ark., went to Haiti over the weekend, carrying a team from U.S. Southern Command to assess the impact of a massive earthquake that hit the Caribbean nation Aug. 14.
The C-130 Hercules from the 19th Airlift Wing took off from Homestead Air Reserve Base, Fla., and arrived in Port-au-Prince, Haiti, on Aug. 15. 
The 14-member SOUTHCOM Situational Awareness Team will work with American diplomats and disaster assistance personnel to survey and assess the impact of the 7.2-magnitude quake. The official death toll reached at least 1,297 on Aug. 16 and is expected to grow in the coming days.
The results of that survey will help SOUTHCOM to "identify U.S. military capabilities needed and available to support U.S. foreign disaster assistance," the command said in a press release announcing the formation of a joint task force.
Other military aircraft have also deployed in support of the task force. The Navy is using its ScanEagle drones and P-8 Poseidon planes to provide aerial images of the areas affected by the earthquake. Four helicopters—two UH-60s and two CH-47s—will also provide airlift support for relief efforts.
The Air Force has assisted in humanitarian relief for Haiti before. In 2016, when Hurricane Matthew caused billions of dollars in damages and left many homeless, Airmen helped establish aerial ports and to transport food, medicine and other essential supplies. 
In 2010, when a 7.0-magnitude earthquake hit Haiti, the Air Force formed part of a massive military response, airlifting in supplies, helping to evacuate affected individuals, and providing air traffic control as thousands of aircraft arrived with aid in austere conditions.
View original article: C-130 Carrying Disaster Assistance Team Deploys to Haiti for Earthquake Aid - Air Force Magazine