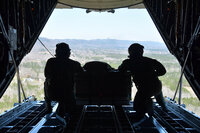 Air Force Reserve and Air National Guard units from across the country partnered to fly a large formation exercise called "Baltic Wolf" here Thursday.
The exercise included aircraft and personnel from the 96th Airlift Squadron, Minneapolis, St. Paul Air Reserve Station, Minnesota; 357th Airlift Wing, Maxwell Air Force Base, Alabama; 700th Airlift Squadron, Dobbins Air Reserve Base, Georgia; along with the 169th Airlift Wing, Peoria, Illinois, of the Illinois Air National Guard.
Reserve Airmen piloting six C-130H3 Hercules aircraft participated in a large-formation employment that executed coordinated flight activity with tactical air drops. This type of exercise is dubbed a "six ship." A typical flight exercise includes only two aircraft so it's unique to have a larger number of aircraft participating in a coordinated exercise together. The crews successfully simulated a contested environment through the mountains of North Georgia, culminating in low cost, low altitude (LCLA) airdrops.
Lt. Col. Richard Konopczynski, 700th AS director of operations and pilot of the third aircraft in the formation, used a road trip as an example to explain why this exercise is important.
"These types of large formation exercises offer a unique level of training not possible in any other way," said Konopczynski. "Imagine going on a cross country trip in your car.  Your decisions are based on what it takes to get you to your destination safely and on time.  Now imagine having two, three, or even five other cars following you in a trail.  Every challenge you encounter while on your route has a potential to impact not only you, but all of the other vehicles in your formation. You can begin to see how the complexity increases exponentially. "
This was also the first large formation exercise for many of the aircrew and ground support Airmen. From the maintenance personnel trying to launch a half dozen aircraft to the first-term aviators piloting the aircraft, everyone involved was part of the training mission's success.
A significant part of the training exercise was the tactical airdrop. Loadmasters are instrumental in ensuring loads are dropped from the aircraft successfully and on time. The loadmaster's job is to supervise loading and unloading of aircraft, monitor the weight and balance of loads, and ensure loads exit the aircraft safely.
Senior Airman Whitney Foster, 700th AS loadmaster, noted the important role the loadmaster plays in not only training missions like this, but in contingency operations as well.
"In a real-world scenario, people on the ground would need supplies," Foster said. "My job is super important because in this exercise we are the personnel who literally push the supplies out of the back of the plane. It's very important that we train for scenarios like this if we end up going down range on deployment and need to get folks supplies on time and on target."
Perhaps one of the most valuable aspects of the training was the opportunity for aircrews to not only test the skills they are trained to do, but to talk shop with other units and learn new, innovative ways to perform their jobs.
"Another priceless aspect of this type of exercise is the opportunity to exchange techniques and ideas with other units," said Konopczynski. "We all strive to do our mission the best we can, but we must all recognize there may be a better way.  These types of opportunities give us to chance to hear diverse perspectives from all aspects of our Air Force family and incorporate them into the way we conduct and execute our missions.  This communication is extremely valuable and directly improves the way we fly, fight and win."
Source: Dobbins partners with three AF units to fly in large-scale exercise > Air Reserve Personnel Center > Article Display