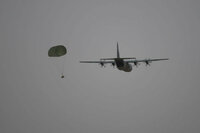 Several U.S. Air Force aircraft including F-16s, C-130s, and KC-135s have deployed to northern Africa for the continent's largest exercise, African Lion.
The exercise drew 7,000 participants from nine nations and wraps up June 18 with USAF aircraft flying alongside Moroccan aircraft for close air support training and C-130s airdropping personnel.
"The arrival of fighters and tankers adds another level to this already dynamic exercise," said Gen. Jeffrey L. Harrigian, U.S. Air Forces in Europe-Air Forces Africa commander, in a release. "Every flight brings another opportunity to work closely with our partners and exchange best practices so we can better pursue our shared goals."
F-16s from the 31st Fighter Wing at Aviano Air Base, Italy, and KC-135s from the 100th Air Refueling Wing at RAF Mildenhall, United Kingdom, arrived in Morocco on June 14. C-130Js from the 86th Airlift Wing at Ramstein Air Base, Germany, deployed even earlier.
The F-16s conducted an Agile Combat Employment training event June 16, flying from Ben Guerir Air Base in Morocco, engaging in close air support missions at a nearby range, then landing at Guelmim Airfield to reload and refuel. The aircraft took off again, flew another mission, and returned to Ben Guerir. All told, the F-16s dropped seven 500-pound bombs, according to a release.
The C-130s flew weapons, support equipment, and personnel to Guelmim as part of the ACE event.
"The teams down at African Lion are taking ACE to the next level by executing it in Africa for the first time," Harrigian said. "Demonstrating these capabilities in new austere locations solidifies our unmatched ability to rapidly deploy combat-credible forces to any location."
This year's event is the first since 2019; the 2020 exercise was canceled because of the COVID-19 pandemic. In addition to Morocco, Tunisia and Senegal also hosted activities as part of African Lion.
Source: F-16s, C-130s, KC-135s Training in Morocco for Exercise African Lion - Air Force Magazine