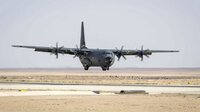 The C-130 air transport squadron being formed by France and Germany is to reach its initial operational capability (IOC) on 1 September as planned despite the Covid-19 pandemic, the Luftwaffe announced on its website on 10 March.
The squadron's four French Air Force (FAF) C-130Js are stationed at Air Base 123 at Orléans-Bricy pending their move to Évreux in Normandy where the joint Franco-German air transport squadron will be based.
The Luftwaffe reported that a maintenance hangar for three aircraft is being built at Évreux where 10 C-130Js will be based, half of which will be tanker versions. The 16-strong German national support element is scheduled to move to Évreux in April along with seven Bundeswehr civilian personnel, followed by French members of the squadron in July and 40 Luftwaffe pilots, technicians, load masters, clerks, and administrative staff in August. The German pilots are being trained on the C-130J at Little Rock Air Force Base in Arkansas.
The Luftwaffe said 65 of its personnel and about the same number of FAF members would be in Évreux by the end of year. The squadron will be tasked with air transport and aerial refuelling missions for the European Air Transport Command (EATC) in Eindhoven, the Netherlands, and for France and Germany.
The squadron's IOC will be provided by two C-130J transports and two KC-130J tankers from the FAF, with the six German aircraft to be delivered at the rate of one every six months starting in February 2022. The deliveries are scheduled to be completed in 2024 when the squadron is due to reach its full operational capability. Three of the German aircraft will be C-130Js and three KC-130Js.
Source: Franco-German C-130 air transport squadron on track for September IOC (janes.com)