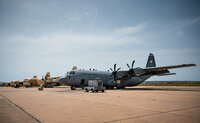 Three US Air Force C-130J Super Hercules aircraft from the 86th Airlift Wing, Ramstein Air Base, Germany, have arrived in Kenitra, Morocco, for exercise African Lion.
The C-130 crews will train alongside their Moroccan counterparts to hone critical airdrop, airlift and aeromedical evacuation capabilities while enhancing interoperability with the Moroccans, the US Air Force said after the aircraft arrived on 9 June.
"African Lion is an incredible opportunity for our Airmen to work shoulder-to-shoulder with our Moroccan partners as we develop essential capabilities for our forces," said General Jeff Harrigian, US Air Forces in Europe-Air Forces Africa commander. "Together, we're building a winning team that can ensure Africa's future safety, security and prosperity."
Ahead of their arrival in Kenitra, the C-130s initiated a joint forcible entry via airborne assault where they led an airdrop team that successfully delivered over 150 US and British paratroopers from the 173rd Airborne Brigade, Vincenza, Italy, and the 16th Air Assault Brigade, Colchester, United Kingdom, to the drop zone in Grier Labouie, Morocco. Airborne insertions allow aircrew to sharpen vital airdrop skills as they rapidly and safely drop the maximum number of personnel at a specific location.
This joint forcible entry also demonstrated the ability of the C-130s to operate effectively alongside US C-17 Globemaster III aircraft. The multi-platform event provided realistic training as Airmen quickly moved hundreds of service members from the European theatre to the African theatre.
Additionally, the C-130s will fly a variety of day and night missions across throughout the two-week exercise.
This week, US Air Force F-16 Fighting Falcons and KC-135 Stratotankers will join the C-130s in African Lion's Air Training Exercise. Joint Terminal Attack Control Airmen are also participating in the combined and joint exercise by training Moroccan JTACs and supporting airdrop operations in Grier Labouie and Tan Tan, Morocco.
Training with partners throughout African Lion enables the multinational forces to build the enduring relationships necessary to confront the broad range of global challenges the African theatre currently faces, the US Air Force said.
African Lion 2021 is US Africa Command's largest, premier, joint, annual exercise hosted by Morocco, Tunisia and Senegal between 7 and 18 June. More than 7 000 participants from nine nations and NATO are taking part.
Source: US Air Force C-130Js arrive in Morocco for Exercise African Lion - defenceWeb