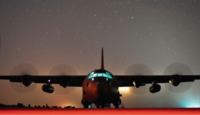 The US Navy (USN) is accelerating plans to field the Lockheed Martin C-130J-30 Hercules in the Take Charge And Move Out (TACAMO) survivable nuclear communications role, with increased funding requested in the service's fiscal year (FY) 2022 budget proposal.
The proposal released earlier in June lays out an accelerated plan to procure three C-130J-30 aircraft as test assets for the Boeing E-6B Mercury long-endurance command, control, and communications (C3) aircraft replacement programme.
"The E-6 Recapitalization Program (E-XX) provides for air vehicle replacement and mission systems moderni ation for the aging E-6B aircraft and TACAMO mission," the proposal said, adding, "Funds increase from FY21 to FY22 due to acceleration of the E-XX, following [an] National Airborne Operations Center (NAOC) Executive Airlift TACAMO (NEAT) analysis of alternatives".
With this accelerated funding for the three test aircraft, developmental test and funding is now slated for FY25. The budget proposal did not disclose intended aircraft numbers to be fielded operationally planned in-service date.
The TACAMO mission is flown out of Located at Tinker Air Force Base in Oklahoma by Fleet Air Reconnaissance Squadron (VQ-3 and VQ-4). The 16 E-6B Mercury aircraft provides airborne capability for survivable, endurable and reliable airborne between the US National Command Authority (NCA) and the US strategic forces. "This mission is critical in the deterrence and management of a large-scale nuclear conflict," the navy said.
Source: US Navy accelerates TACAMO nuclear communications recap plan (janes.com)