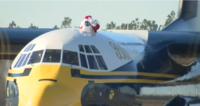 The U.S Navy Blue Angels teamed up with Toys for Tots Foundation to make spirits a little brighter in Southwest Louisiana.
The brand new C-130 aircraft landed at Lake Charles Regional Airport Tuesday morning with more than 5,000 pounds of toys and books for local children. Santa was also on hand for the delivery!
"This is the first time we've been able to partner with Blue Angels in 3 years...They just got this C-130 less than a year ago," said Toys for Tots Operations VP David Cooper.
Santa ditched the sleigh for a cargo full of Christmas spirit...
Toys for Tots has always made sure every kid has a Christmas. This year, in the wake of Hurricanes Laura and Delta, they received a little extra help.
"We really just wanted to support the local communities around us. Especially here in Lake Charles," said Capt. William Huckeba, U.S Marine Corps/Blue Angels.
Robert Henry brought his grandson to see the aircraft, which resulted in him getting his very own toy from Santa.
"The one toy, when he saw the toilet. He loves the games where anything sprays water and when he saw that...Santa gave it to him,
Making spirits just a tad bit brighter this holiday season.
Captain William Huckeba with the Blue Angels Navy Team said the toy giveaway is an annual tradition and bringing it to Lake Charles this year was necessary given all the challenges over the last few months.
"Over 5 thousand pounds of toys...that should be enough to impact a large amount of the community here in Lake Charles," Huckeba said. 'We feel very fortunate to provide a ride for those toys and we know those toys will go to all the kids out there that really need a special Christmas."
Henry said the gesture means a lot for families struggling to provide a Christma for their little ones in the wake of the storms.
"This is my grandson. He lives with us, they lost their home in Laura. A lot of money was spent and a lot of people don't have the money to have a Christmas. This will help out a lot."
This was the first time Toys for Tots and Blue Angels teamed up to help the Lake Area. The C-130 traveled from Pensacola, Florida.
The toys were loaded onto trucks and will be distributed at events across the 5-parish area leading up to Christmas.
View original article and video here: Blue Angels & Toys for Tots make toy drop in SWLA (kplctv.com)