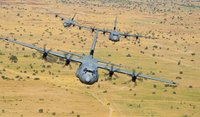 Lockheed Martin has announced that the world-wide fleet of C-130J Super Hercules aircraft recently surpassed 2 million flight-hours since the C-130J's first flight on 5 April 1996.

Twenty-two operators in 18 nations contributed to this achievement via multiple missions, including combat, transport, aerial refuelling, special operations, medical evacuation, humanitarian relief, search and rescue, weather reconnaissance, firefighting and commercial freight delivery.

Rod McLean, general manager of Lockheed Martin Air Mobility & Maritime Missions, revealed the milestone at the Hercules Operators Conference, the annual C-130 operator-industry event held in the USA.

Mr McLean said: "The C-130J has earned a reputation as the world's workhorse, and this milestone is a powerful reminder of the Super Hercules' unmatched global reach.

"Crews continue to exemplify the aircraft's proven capability and versatility with every mission they fly."

The countries with military-variant C-130Js contributing to these flight-hours include the UK, USA, Australia, Italy, Denmark, Norway, Canada, India, Qatar, Iraq, Oman, Tunisia, Israel, Kuwait, South Korea, Saudi Arabia, France and Bahrain.

Also contributing was Lockheed Martin Flight Operations; its crews are the first to fly every new C-130J. The C-130J Super Hercules is the current production model of the legendary C-130 Hercules aircraft. 
Source: https://www.machinery-market.co.uk/news/25309/Global-C-130J-fleet-eclipses-two-million-hours