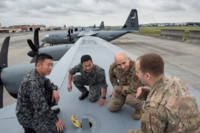 U.S. Air Force Airmen worked with Japan Air Self-Defense Force, or Koku-Jieitai, airmen during the Bilateral Exchange Program at Yokota Air Base, Oct. 17-25.
Fifteen Koku-Jieitai Airmen visited Yokota AB to work with their U.S. Air Force counterparts, giving them a chance to learn, grow and strengthen relationships.
The Bilateral Exchange Program allows airmen to learn from one another, building better work practices and provides airmen an opportunity to share their culture.
"Through the BEP, I can learn the differences of operations between the U.S. Air Force and Japan Air Self-Defense Force," said Japan Air Self-Defense Force Tech. Sgt. Yuji Watanabe, Iruma Weather Squadron weather observer. It helps me recognize a lot of pros and cons and gives me a good opportunity of bringing back what I've learned to my unit."
Airmen from a variety of career fields participated in the program, including weather, airfield management, maintenance, security forces, supply and more.
Working together through a challenging language barrier helped the airmen strengthen partnerships.
"Every one of our counterparts were kind and encouraged and spoke positively to us," Watanabe said. "You don't have to worry about your English aptitude. You can enjoy every minute of the program by staying positive. We can definitely learn a lot from each other."
Source: https://www.af.mil/News/Article-Display/Article/2005676/yokota-ab-strengthens-partnerships-through-the-bilateral-exchange-program/